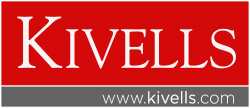 Kivells

Property Auctioneers
8 Belle Vue, Bude, Cornwall, England, EX23 8JL
(01288) 359999
(01288) 355438
bude@kivells.com
England West
Kivells
Next auction date: 15-02-2024
Kivells can be traced back to 1885 when William Thomas Kivell set himself up in business as an auctioneer and land agent, first in Pyworthy and then in Holsworthy.
What follows is an account of the Kivell family over four generations in the development of the firm of Kivells, from its origins as a one-man business in the late nineteenth century to its position today as one of the leading firms of Auctioneers, property agents and chartered surveyors in the West Country.
William Kivell went on to grow the business and was joined by his sons forming Kivell and Sons, selling farm property and holding livestock auctions.
Kivells is a very different firm from that founded by William Thomas Kivell in 1885, however the nature of the business and its ethics remain the same all be it with a much larger area of operation.
The firm has recently became a limited company with one of the five directors being David Kivell, a great-grandson of William Kivell.
It is organised around fi
IMPORTANT: Novagem Ltd the operators of propertyauctionaction.co.uk are not responsible for any external websites or content links on this page and inclusion in this property auctioneer directory does not mean or imply endorsement. Business descriptions are derived from individual business' marketing materials in the public domain, and should not be relied upon as fact.