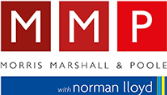 Morris Marshall & Poole

Property Auctioneers
28 Broad Street, Welshpool, Powys, Wales, SY21 7RW
01938 554818
welshpool@morrismarshall.co.uk
Wales North
Morris Marshall & Poole
Next auction date: 29-11-2023
Morris, Marshall and Poole have been estate agents and chartered surveyors in the region since 1862. Over the last 20 years mergers with other leading property companies: Lunt Tomley, Shearer and Morris and most recently, Norman Lloyd, has brought together some of the best known and most experienced professionals in the region.
Our multi award winning residential, commercial and agricultural land and property teams are based at eleven offices covering Ceredigion, Gwynedd, Powys and Shropshire, with the Rural Department based at Welshpool Livestock Sales.
IMPORTANT: Novagem Ltd the operators of propertyauctionaction.co.uk are not responsible for any external websites or content links on this page and inclusion in this property auctioneer directory does not mean or imply endorsement. Business descriptions are derived from individual business' marketing materials in the public domain, and should not be relied upon as fact.