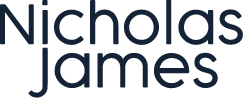 Nicholas James Property

Property Auctioneers
8 The Drive, Hove, East Sussex, England, BN3 3JA
01273 917915
hello@nicholasjamesproperty.co.uk
England South
Nicholas James Property
Next auction date: 29-11-2023
Nicholas James say that their online auctions offer private individuals and property companies more flexibility than ever, no matter whether theybre buying, selling, or both.
According to their website the say that auction can be great way to sell and buy property and the old-fashioned stigma that auction is only for undesirable, unsaleable property is truly a thing of the past. They also state that auction can provide huge levels of competition from buyers meaning, that in a busy market, where the right property is more sought after than ever, a seller could end up receiving more than they initially thought. A buyer can then secure their dream property, knowing theybve exchanged contracts and the key handover day is not far away.
They offer a "no sale, no fee" model that they say offers sellers a risk-free option of achieving the best possible price and are regulated by RICS which they say means you can always trust their advice and know theybre doing the best they possibly can for you.
They also specify on their website that If you want to hear about how their fairer fees and how modern marketing can help you achieve the best possible price in the shortest possible time then you should please contact them for more details.
IMPORTANT: Novagem Ltd the operators of propertyauctionaction.co.uk are not responsible for any external websites or content links on this page and inclusion in this property auctioneer directory does not mean or imply endorsement. Business descriptions are derived from individual business' marketing materials in the public domain, and should not be relied upon as fact.